Natural orifice specimen extraction
When the operation is performed by the transanal approach, the specimen should be discharged through the anus. In addition, transanal or transvaginal extraction is possible after conventional laparoscopy using the transabdominal approach. In the case of benign lesion or specimen by local excision, it is easy to remove, but, when the lesion itself is large or the specimen is bulky by TaTME, transanal extraction is relatively impossible due to the condition of anal sphincter (specimen-sphincter mismatch). In this case, it is necessary to switch to transabdominal extraction. In some cases, it can be safely removed by gentle and slow dilation; otherwise, excessive removal can cause sphincter injury and eventually lead to dysfunction[13,14].
While transanal extraction has the advantage that it can be applied irrespective of gender, transvaginal extraction is only possible in women and in some cases. It is also known that the rate of protective ileostomy is higher because of the relatively difficult incisions and the associated complications during the removal of the extract[15].
However, there are advantages in that relatively large extracts, for example those after RHC, can be taken out without large incisions and sphincter injury can be avoided[16].
Technical notes
Initially, a combination of surgical glove and wound protector was rolled down to create a homemade type port. Later, readymade ports were introduced, and the SILS port, OCTO port, and mini port were used, sequentially. Recently, however, a combination of Globe port and PPH's circular anal dilator has been used. This combination is easier and cheaper to install than the TEM system, and it is also superior in terms of view, as it can see the side of the view that cannot be seen in the TEM system at the same time. It is also advantageous for technical manipulation, as Atallah explained, with much more freedom and wider scope of application (ROM).
Instead of an Airseal system, a homemade reservoir system using surgical gloves can be manufactured easily and quickly. In this case, it is useful to secure a stable operative field at no additional cost [Figure 1].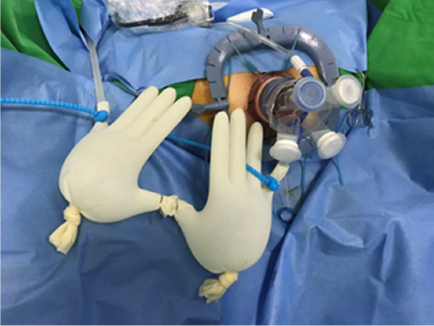 Figure 1. Surgical gloves as a reservoir. Powder free surgical glove can be used as a reservoir instead of Airseal system. Using a pair of gloves is good enough and provides stable pneumo-rectum/pelvis during transanal procedures
TAMIS is a single port laparoscopic surgery format. Therefore, an inevitable jam is caused because the narrow space must be shared with the camera assistant. This is inconvenient for both the operator and the assistant. The answer to this inconvenience is solo surgery. The camera holder can be secured to the bed rail and the procedure can be performed without an assistant according to operator's own control and fixed focus [Figure 2].
Figure 2. Solo surgery using a camera holder. Inevitable jam during single port laparoscopic surgery can be solved by applying the solo surgery. With the help of a camera holder fixed to rail of bed, the operator can use the space freely for stable procedures
The level of lesion available with this type of surgery (TAMIS) is commonly considered as mid or low rectal lesion. In practice, however, techniques such as access and excision are possible for lesions that exist at higher heights. The peritoneal reflection is usually regarded as a height equivalent to the second Houston valve level with some variation. Proximal lesions at higher heights are more likely to be perforated when resected into the whole layer, and infiltration of air into the abdominal cavity may cause difficulty in securing a stable field of vision and maintaining a stable surgical field. There is also a possibility of contamination.
Given the structure of the peritoneal reflex, the probability of perforation is relatively high, especially in lesions present in the anterior aspect.
Once perforation occurs, suture is possible even under TAMIS conditions, so it can be repaired by transanal manipulation. However, if the injury is large or there is already contamination of the abdominal cavity by the intestinal contents, repair and lavage may be necessary by the transabdominal approach. In this case, a single port laparoscopic procedure is usually preferred. Once the transabdominal approach is added, the length of stay is usually longer.
Patient position is also important in TAMIS surgery. In general, it is true that positioning the lesion at the bottom is convenient and advantageous for surgery. However, it is not necessary to vary the position of the patient to place the lesion at 6 o'clock as in TEM conditions, or to adjust the system to center the field of vision during surgery.
Wherever the lesion is located under the lithotomy position, it is relatively easy to access, but some authors still mention that the prone position is helpful for anterior proximal lesions[17].
Albert et al.[18] first suggested that the lesions be placed below when introducing the TAMIS, but a recent publication stated that lithotomy position could resolve all lesions.
Even in malignant lesions, local recurrence rate is low in lesions within T1, but local recurrence rate is significantly increased in T2 lesions.