INTRODUCTION
Biliary tract malignancies are broadly classified into three categories: (1) intra-hepatic biliary tract cancers; (2) cancer of the extra-hepatic biliary tract and the gall bladder; and (3) ampulla of vater cancer. Cholangiocarcinoma (CCA) includes tumors of the intra-hepatic bile ducts, peri-hilar and extra-hepatic bile ducts[1]. Cancers in the distal bile duct can present with biliary strictures due to CCA, pancreatic head cancers or cancer of the ampulla of vater and they behave clinically similar, thus being broadly categorized as peri-ampullary tumors. Among CCAs, about 5%-10% are intra-hepatic and about 60% of the extra-hepatic CCAs are in the peri-hilar region, classified as the Klatskin tumors[2] [Table 1]. CCA is the most common biliary tract malignancy but accounts for less than 2% of all cancers[3]. It is often the most difficult to diagnose among all gastrointestinal cancers with a dismal 5-year survival rate of about 5%[4]. Risk factors for CCA include primary sclerosing cholangitis (PSC), choledochal cyst, parasitic infections like Clonorchis, exposure to thorotrast, hepatolithiasis and familial polyposis but the majority occur sporadically[5]. Malignant biliary strictures can present with symptoms and signs due to obstruction of the bile ducts including abdominal pain in the right upper quadrant, jaundice, fever or chills due to cholangitis, but they can also be non-specific. They are often insidious in growth and can present late in their clinical course with a poor prognosis. With the advent of advanced imaging technologies, biliary tract malignancies are diagnosed at an earlier stage, offering a potential surgical cure or liver transplant options for patients. Despite all this, only about 20% of malignant biliary obstructions (MBO) are resectable at the time of diagnosis[6]. This review will address the diagnostic steps for evaluation of MBO due to biliary etiology, tissue sampling methods and the management strategies for biliary drainage, with a predominant focus on CCA.
Table 1
Classification of cholangiocarcinoma based on location and morphology
Classification of CCA based on anatomical location
1. Intra-hepatic cholangiocarcinoma
2. Extra-hepatic cholangiocarcinoma (up to second order bile ducts)
(a) Peri-hilar CCA
(b) Distal CCA
Bismuth-Corlette classification of peri-hilar CCA
Type 1: Involving common hepatic duct below the confluence of right and left hepatic ducts
Type 2: Involving the confluence of right and left hepatic ducts
Type 3a: Involving the confluence and extending into right hepatic duct
Type 3b: Involving the confluence and extending into left hepatic duct
Type 4: Involving confluence and extending into both right and left hepatic duct/ multifocal
Classification of CCA based on morphological type:
1. Peri-ductal infiltrating (most common)
2. Mass-forming or exophytic
3. Intraductal papillary
Diagnostic approach
Diagnosis of a biliary malignancy should be suspected in a patient who presents with symptoms and signs of biliary obstruction, including jaundice, abdominal pain, abnormal liver enzymes with mainly a cholestatic pattern or evidence of biliary ductal dilatation on imaging. Presence of an intra-hepatic mass on imaging warrants further investigation to rule out CCA. In patients with PSC, any deterioration in clinical status with worsening jaundice or weight loss, with or without the presence of biliary ductal dilatation should be further investigated to look for the presence of any dominant stricture and evaluated for CCA, especially in the setting of wall thickening of the bile duct.
The approach for diagnosis depends on the location of the suspected lesion, if it is intra-hepatic, peri-hilar or in the distal biliary tract. Once a biliary tumor is suspected, the patient should undergo further testing with tumor markers, imaging studies and endoscopic or percutaneous procedures for sampling to establish a diagnosis. A tissue diagnosis is generally necessary prior to any surgical planning, documentation prior to non-operative treatment modalities like chemoradiation and especially in indeterminate strictures, where establishing a diagnosis will change the management. Distal biliary tumors can cause both intra- and extra-hepatic biliary ductal dilatation while peri-hilar tumors cause intrahepatic ductal dilatation with normal extrahepatic ducts.
TISSUE SAMPLING TECHNIQUES
Endoscopic retrograde cholangiopancreatography
ERCP is still considered the gold standard for biliary imaging with the ability to obtain tissue sampling for diagnosis. Due to recent advances in imaging modalities with CT and MRI/ MRCP, studies have shown comparable diagnostic accuracy with ERCP[22]. ERCP is useful in the diagnosis of ECCA and peri-hilar CCA. Cholangiograms reveal a stricture in the biliary tract with or without upstream biliary ductal dilatation. Malignant strictures usually appear as long segments with irregularity and asymmetry with shelving [Figure 1][23]. Histopathological diagnosis could be obtained with ERCP with one of the three modalities: (1) brush cytology; (2) aspiration of biliary fluid; and (3) biopsy with endobiliary forceps. The sensitivity of these techniques varies when performed individually versus in combination and carries a specificity of almost 100% [Table 2].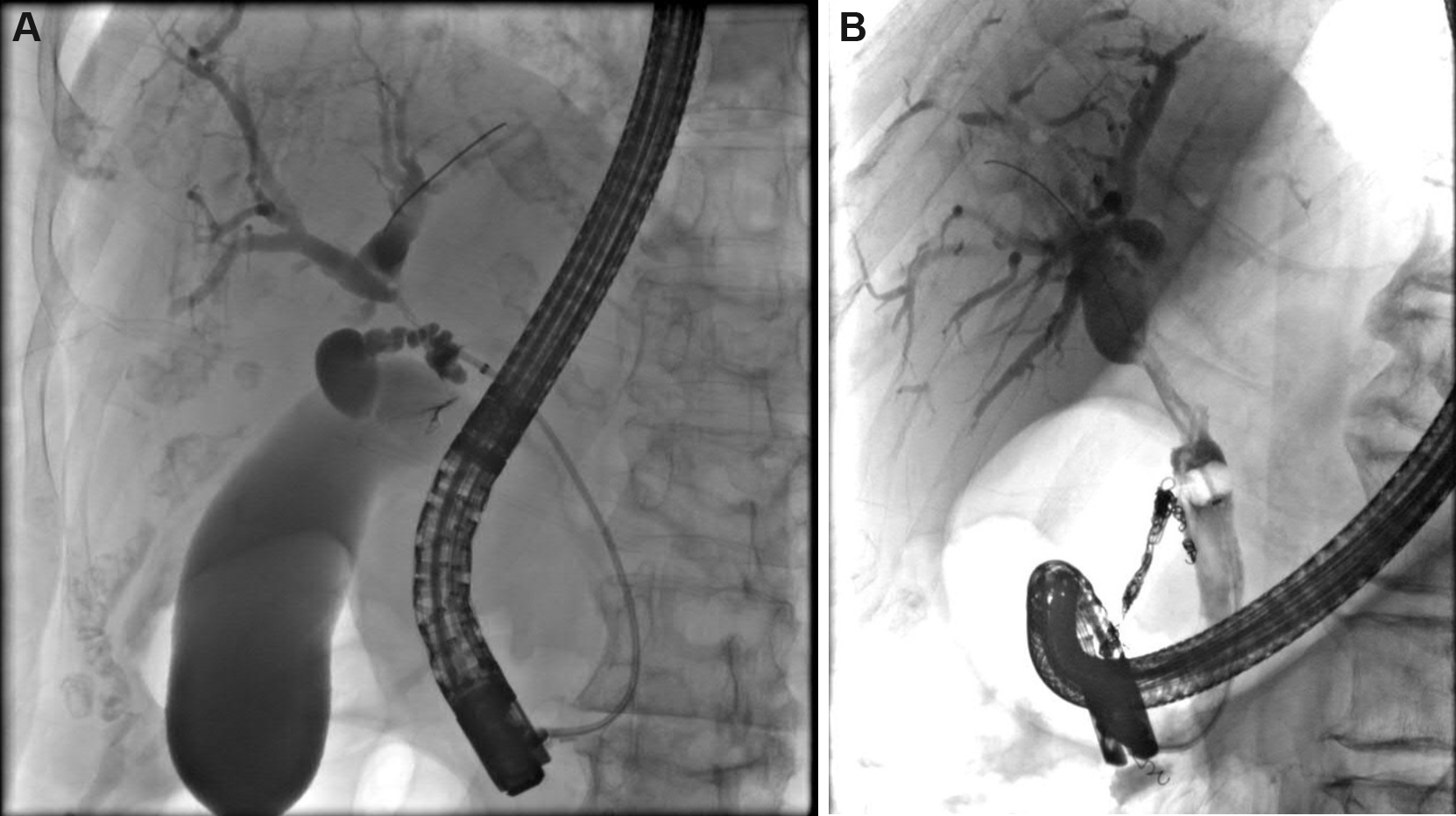 Figure 1. Endoscopic retrograde pancreatography image demonstrating (A) Hilar stricture in a patient with cholangiocarcinoma and (B) Stricture in the common hepatic duct in a patient with cholangiocarcinoma.
Table 2
Sensitivity and specificity of various modalities in the diagnosis of malignant biliary strictures
| | | |
| --- | --- | --- |
| | Sensitivity | Specificity |
| ERCP with brush cytology | 23%-66% | 99%-100% |
| ERCP with biliary fluid aspiration | 6%-36% | NA |
| ERCP with biliary forceps biopsy | 45%-81% | 99%-100% |
| Intraductal ultrasound | 88%-94% | 86%-90% |
| Endoscopic ultrasound | 43%-90% | 78%-96% |
| Spyglass Cholangioscopy | 64%-94% | 95%-100% |
Cytology and aspiration
Bile duct brushings are commonly performed to differentiate benign from malignant strictures. Several studies have shown variable sensitivity rates from 23%-86%[24]. Kurzawinski et al.[25] in the prospective study of 100 patients with biliary strictures reported a 33% sensitivity for detection of CCA. A meta-analysis of more than 1500 patients by Burnett et al.[26] reported a sensitivity of 42%. Frequently cytology is combined with fluorescent in situ hybridization (FISH) or mutation profiling (MP) to increase sensitivity. Kushnir et al.[27] demonstrated in their study that sensitivity for cytology alone was 26% but when combined with FISH and MP, it was 44% and 56% respectively. When all 3 modalities were combined it was 66%. Dudley et al.[28] in their study combined next generation sequencing with cytology improving their sensitivity from 67% to 85%.
Sugimoto et al.[29] demonstrated that aspiration of bile in 76 patients with biliary strictures demonstrated a sensitivity of 32% for the diagnosis of biliary cancers but the sensitivity improved to 70% when aspiration was performed after biliary brushings. The sensitivity also improved with the aspiration of a higher amount of fluid, protruding type tumors compared to flat type and for tumor with longer stricture segments. The Presence of a desmoplastic reaction and inflammatory changes can decrease the sensitivity.
Biliary forceps biopsy
Endoluminal biopsy using biliary forceps is technically more challenging compared to brushings and generally requires a sphincterotomy. It can also be difficult to perform in narrow bile ducts and tumors higher up in the biliary tree and complications related to tumor bleeding and perforation should be kept in mind. Studies have shown varying sensitivity between 50% and 81% for the diagnosis of biliary cancers[30,31]. Chen et al.[32] demonstrated a sensitivity of 53.8% for the diagnosis of pancreato-biliary malignancy from biliary strictures, with higher sensitivity for CCA when compared to pancreatic cancer (74% vs. 29%). The exact number of biopsies required for diagnosis has been reported to be variable between 1 and 6 in several studies. Tamada et al.[30] showed that infiltrating type biliary malignancies required more bites while 3 biopsies were sufficient to increase the sensitivity to near 100% for papillary type CCA. In order to improve the sensitivity, the combination of brushings along with biliary forceps biopsy has shown better results. A meta-analysis of 9 studies showed the sensitivity for brushings and biopsies to be 45% and 48% respectively but their combination improved it to 59%[33].
Intraductal ultrasonography
Intraductal ultrasonography (IDUS) consists of high-frequency catheter probes that can be introduced into the CBD over a guidewire most often during ERCP. It is used for the detection of biliary tumors with local staging. There are usually three layers visible on IDUS: an inner hyperechoic layer corresponding to the mucosa, a middle hypoechoic layer of muscle fibers and an outer hyperechoic layer of connective tissue[34]. The presence of a hypoechoic mass with disruption of normal ultrasonographic pattern and irregular margins and invasion of the tumor into surrounding tissues are some of the features of malignancy[35]. Presence of a sessile intra- or extra-ductal tumor and the size of the tumor more than 10 mm were also suggested as high-risk features by Tamada et al.[36]. Studies have also shown IDUS to demonstrate higher sensitivity and specificity when compared to endoscopic ultrasound (EUS) while similar sensitivity and almost similar specificity compared to ERCP guided tissue biopsies, in distinguishing benign and malignant strictures[37,38]. IDUS can also be useful in guiding biopsies, as the presence of a sessile tumor or high-risk features on IDUS resulted in higher rates of positive sampling. IDUS can also provide information regarding the longitudinal spread of the tumor along the bile duct, depth of tumor invasion and vascular invasion[39]. Diagnostic accuracy for hepatic artery and portal vein invasion has been reported to be between 86% to 100% in studies[39]. The drawback of IDUS despite the above advantages is that tissue sampling cannot be obtained, availability mainly in only tertiary care centers and teaching hospitals and requires sufficient expertise to interpret the findings.
Endoscopic ultrasound
EUS can be used in the diagnosis and staging of biliary tract cancers by being able to detect masses that can appear hypoechoic, biliary ductal dilatation and evaluation of the vasculature and lymph nodes for involvement with the tumor[40] [Figure 2A]. Studies have shown high rates of sensitivity and specificity for detection of malignant strictures up to 80% with detection of distal cancers up to 100% and lower rates for proximal CCAs[41,42]. Linear EUS scopes provide the ability to perform fine-needle aspiration (FNA), thus improving the diagnostic accuracy [Figure 2B]. With FNA, sensitivity ranging from 43%-90% and specificity ranging from 80%-100% have been reported, with higher rates in distal CCA[43]. Comparing EUS-FNA with ERCP for diagnosis, studies have shown mixed results with some favoring EUS-FNA and others showing ERCP with biopsies to be superior[44-46]. But EUS-FNA with ERCP and brushings during the same session has demonstrated superiority compared to EUS-FNA alone[46]. There are some drawbacks to remember while performing and interpreting the results of EUS-FNA. Studies have shown low negative predictive values ranging from 30% to 65% and hence a negative result does not rule out malignancy in the appropriate clinical setting. An additional complication with EUS-FNA not seen with endo-biliary sampling is tumor seeding after FNA, especially in proximal biliary tumors involving the hilum, as they can lead to peritoneal metastasis. Peritoneal metastasis rates up to 80% have been reported after EUS-FNA sampling[47,48]. Liver transplantation protocols usually preclude these patients from undergoing transplantation if FNA is performed pre-operatively for hilar malignancies. The concern for tumor seeding is lower with distal biliary strictures and hence EUS-FNA is not a contraindication in such cases.

Figure 2. Endoscopic ultrasound demonstrating (A) mass in the distal bile duct in a patient with cholangiocarcinoma (B) fine needle aspiration of the mass.
Despite the use of the above-mentioned techniques, false-negative results are still possible. While a positive result can confirm a diagnosis of malignancy, a negative result does not necessarily rule it out, especially if the pre-test probability is high and these are labelled "indeterminate strictures". They are defined as strictures with no obvious mass on imaging and cannot be reliably differentiated as benign or malignant, despite workup with ERCP and tissue sampling as described above. Furthermore, the diagnostic yield for strictures due to various etiologies is different, with higher rates for CCA compared to other peri-ductal etiologies like pancreatic cancer and gall bladder cancer, thus adding more confusion in clearly defining these strictures. Surgical exploration can be considered in such cases but recently the use of direct cholangioscopy guided biopsy has led to a reduction in the need for surgeries and provide the ability for direct visualization of these strictures. Despite all the workup, if the concern for malignancy remains high, such patients can be referred to surgery for further exploration.
Cholangioscopy
Digital single operator cholangioscope (DSOC, SpyGlass, Boston Scientific Inc. Massachusetts, USA) consists of a single disposable 10.5 Fr scope, which can be passed through a duodenoscope. This scope can be passed over a guidewire into the bile duct enabling direct visualization, with the ability to perform suction, irrigation and biopsies with specialized forceps (SpyBite)[49]. The presence of an obvious mass (nodular or papillary), abnormal blood vessels which are dilated and tortuous, irregularity in the surface can be predictive of malignancy [Figure 3]. Pereira et al.[50] in their retrospective study showed a visual accuracy of 95.1% for the diagnosis of malignancy with a sensitivity of 100% and specificity of 89.5%. The SpyBite's accuracy was 80.5% with a sensitivity of 64% and specificity of 100%. Evaluation by cholangioscopy changed the Bismuth classification in 42% of patients compared to imaging prior to the study. Other studies have shown a higher sensitivity for SpyBite up to 86%[51,52]. Varadarajalu et al.[53] in their retrospective study of 31 patients with indeterminate biliary strictures, demonstrated that the sensitivity could be increased to 94% using rapid on-site examination with cytology[54]. A randomized controlled trial (RCT) by Bang et al.[55] comparing patients undergoing cholangioscopy guided biopsies for indeterminate biliary strictures with onsite vs offsite processing techniques demonstrated similar diagnostic accuracy, sensitivity and specificity for both techniques, but the median number of biopsies to establish diagnosis was lower in the onsite group.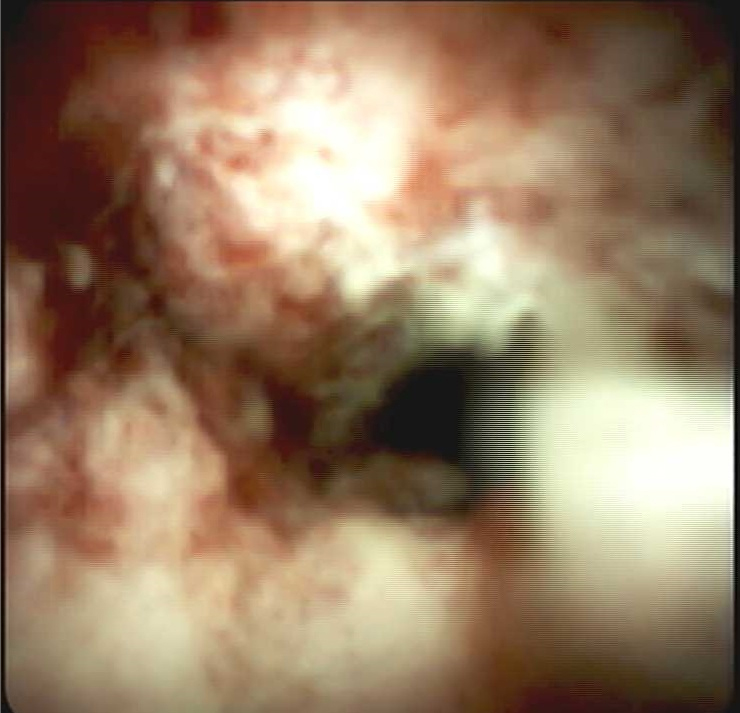 Figure 3. Spyglass cholangioscopy demonstrating infiltrative mass in the bile duct with abnormal vasculature and friable mucosa in a patient with cholangiocarcinoma.
Studies have reported higher morbidity and rate of complications with cholangioscopy with up to five times higher rates of cholangitis in these patients. A meta-analysis including more than 2000 patients reported an adverse event rate of 7% with a serious adverse event rate of 1%[56]. The role of direct cholangioscopy in the diagnostic algorithm [Figure 4] for biliary cancers is still being investigated given the complexity, availability, procedural duration, costs, and complications. It is a valuable tool for the investigation of indeterminate biliary strictures with prior ERCPs inconclusive for malignancy when the clinical suspicion is high.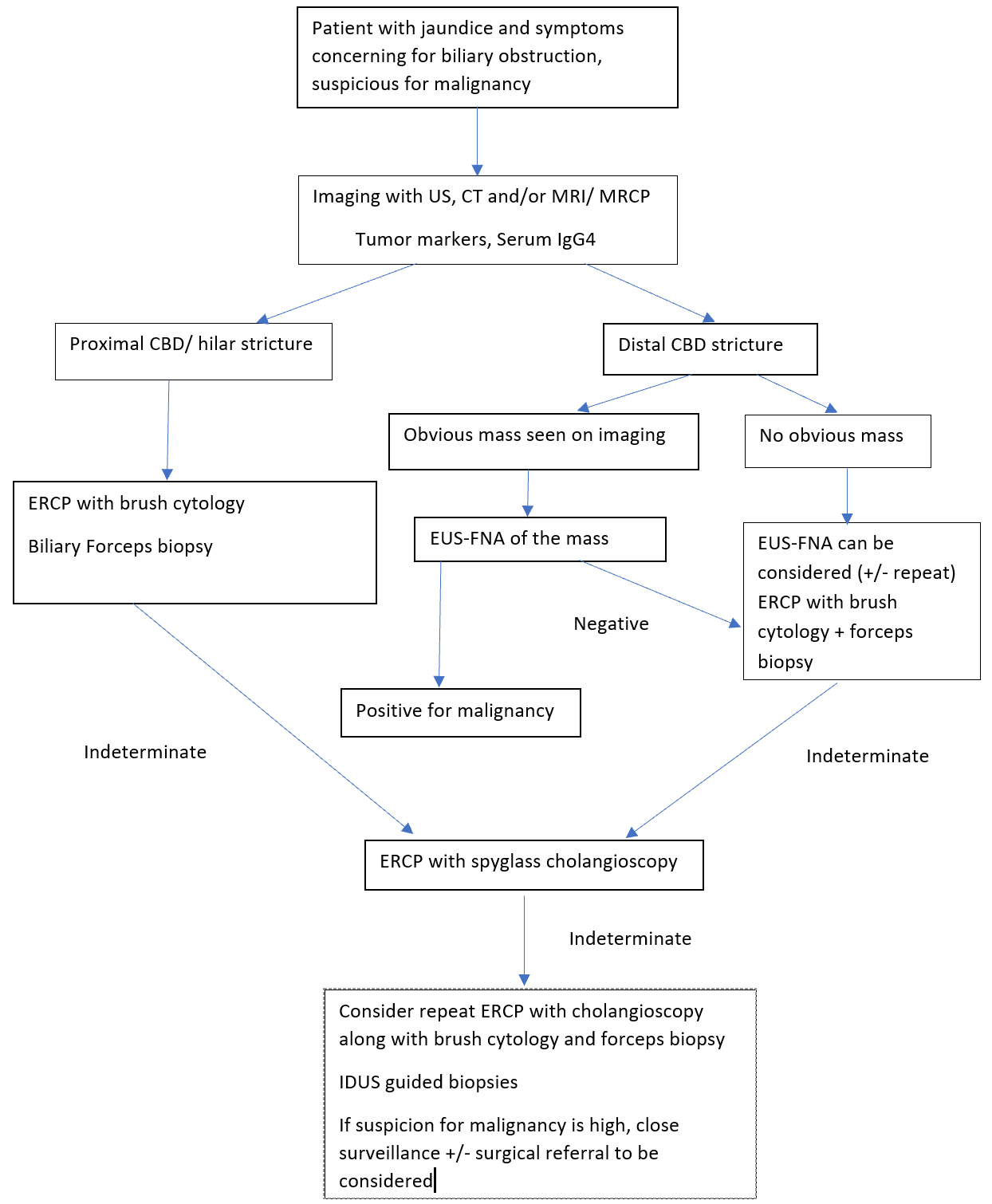 Figure 4. Diagnostic algorithm for malignant biliary stricture. US: Ultrasonography; CT: computed tomography; MRI/ MRCP: magnetic resonance imaging/magnetic resonance cholangiopancreatography; CBD: common bile duct; ERCP: endoscopic retrograde cholangiopancreatography; EUS: endoscopic ultrasound; FNA: fine needle aspiration; IDUS: intraductal ultrasound.
Treatment
Therapy for malignant biliary strictures depends primarily on the level of obstruction (hilar vs. distal) and if the malignancy is resectable or not. The treatment goal for biliary malignancies is providing a surgical cure if the cancer is resectable or promoting biliary drainage in unresectable cancers. With advances in the field of interventional endoscopy and ERCP, biliary drainage can be achieved in most patients thus improving the quality of life.
Resectable cancers
Hyperbilirubinemia was thought to be associated with poorer surgical outcomes and hence earlier studies focused on biliary drainage pre-operatively to reduce the risk by the placement of biliary stents endoscopically[57]. More recent data in the form of RCT have not shown any benefit in mortality for patients who underwent pre-operative drainage, but also demonstrated an increase in complications post-operatively for these patients[58,59]. Specifically, cholangitis is a clinical concern as placement of a stent for biliary drainage would increase the risk of infection in an otherwise sterile field without an ERCP. Another RCT comparing endoscopic and percutaneous transhepatic biliary drainage (PTBD) for pre-operative biliary drainage was terminated early due to higher mortality in the PTBD arm (41%) compared to endoscopic drainage (11%)[60]. A meta-analysis by Fang et al.[61] also demonstrated no mortality benefit for pre-operative biliary drainage. For distal strictures due to pancreatic cancer and asymptomatic hyperbilirubinemia, the American Society for Gastrointestinal Endoscopy recommends against routine preoperative biliary drainage. Endoscopic biliary drainage pre-operatively should be reserved for patients who have cholangitis, significant symptoms due to obstruction like pruritis and for those patients undergoing neo-adjuvant chemotherapy in order to bring the higher bilirubin levels down prior to chemotherapy[62]. It is also ideal to delay the surgery a few weeks after biliary drainage if able, for the hepatic function to normalize, to improve the post-operative outcomes. For distal cancers, pancreatico-duodenectomy or Whipple's procedure is the treatment of choice. For intra-hepatic tumors, resection of the tumor with negative margins with or without portal lymphadenectomy is generally performed. For peri-hilar tumors, hepatic lobectomy or trisectionectomy along with resection of the extra-hepatic bile duct and gall bladder with a Roux-en-Y hepatico-jejunostomy is performed.
Unresectable cancers
Most CCA, close to 70%-80%, are unresectable at the time of diagnosis and endoscopic procedures in these patients are mainly palliative to decompress the biliary tract and improve quality of life but have no mortality benefit. The endoscopic options available are ERCP with biliary stenting which is the primary palliative modality, EUS guided biliary drainage, endoscopic radiofrequency ablation or photodynamic therapy (PDT). Percutaneous biliary drainage (PTBD) is also an approach used for palliation. It is generally used for segmental biliary obstruction due to tumors in the intra-hepatic bile ducts where endoscopic therapy may not be feasible or in selected patients with hilar CCAs. A study by Lee et al.[63] evaluated outcomes for PTBD and endoscopic drainage for various types of Bismuth classification lesion. For type I and II lesions, there was no difference in the stent patency rates between both the groups for metal stent placement using either method. The best results were seen with endoscopic drainage in Bismuth type III lesions and PTBD for Bismuth type IV lesions[63]. Several studies have been performed comparing these two techniques of biliary drainage, including meta-analyses and results have shown that both techniques are comparable in efficacy with certain advantages to each technique, but lesser morbidity and patient comfort with endoscopic drainage. PTBD is generally reserved when endoscopic biliary drainage fails[64].
ERCP stenting
Endoscopic stenting has shown to be superior to surgical decompression with a bypass with less morbidity and mortality in multiple studies, but the surgical bypass is more durable as endoscopic drainage has a higher risk of biliary obstruction requiring repeat procedures[65,66]. Decompression with stenting is performed with ERCP and placement of a metal or plastic stent. In general, self-expandable metal stents (SEMS) are primarily used for decompression in MBO. Several studies have shown a lower rate of stent dysfunction and lower re-intervention rates with SEMS, mainly for extrahepatic tumors with strictures[67,68]. A meta-analysis by Zorrón Pu et al.[69] showed stent dysfunction rates of 22% for SEMS compared to 47% for plastic stents with a stent patency duration of 250 days in comparison to 124 days with plastic stents. Moole et al.[70] in their meta-analysis showed the median stent patency duration to be 167.7 days for SEMS while only 73.3 days for plastic stents, with lower rates of cholangitis in SEMS. Sangchan et al.[71] in their RCT demonstrated a survival benefit for patients with SEMS compared to plastic stents but other studies have shown mixed results. Thus, the consensus is the use of SEMS for MBO, especially for distal strictures. The role of plastic stents for distal MBO is typically considered in patients with a life expectancy of fewer than 3 months.
Type of SEMS
Biliary SEMS come in diameters of 6, 8 and 10 mm with lengths from 4 to 10 cm. They can be of 3 types: fully covered (FCSEMS), partially covered (PCSEMS) or uncovered (USEMS). These stents are made from various materials and can be present with or without anti-migration valves and anti-reflux mechanisms[72]. They each have their own set of advantages and disadvantages. Generally, FCSEMS are more expensive and have higher rates of migration and reflux of duodenal contents, but they are easily removable[73]. They have also demonstrated higher rates of cholecystitis if the stent is placed across the cystic duct[74]. In comparison, USEMS have higher rates of tissue ingrowth and difficult to remove but have lower rates of migration. Both have comparable patency rates. The choice of SEMS in patients depends primarily on the level of biliary obstruction, distal MBO vs. proximal MBO due to hilar strictures, and whether removability may be important (e.g., indeterminate strictures).
For distal unresectable MBO, FCSEMS or UCSEMS are the primary options. Several studies have been performed comparing these two stents with conflicting results. Lee et al.[75] in their retrospective study showed a higher rate of tissue ingrowth with obstruction in USEMS (76% vs. 9%) but stent migration was more common in FCSEMS (36% vs. 2%). In contrast, Conio et al.[76] in their RCT of 158 patients found higher rates of stent migration as well as stent occlusion in FCSEMS. Majmudar et al.[77] demonstrated higher rates of cholecystitis by 15% for FCSEMS when compared to USEMS but another study by Isayama et al.[73] showed no statistically significant difference between the two stents for cholecystitis in distal MBO. Thus, there is no consensus on the ideal type of stent to be used for distal MBO. The choice of stents should be individualized for every patient, depending on other clinical factors, life expectancy, possible need for removal and plan for chemoradiation.
For malignant hilar strictures, the choice of stents are either plastic or USEMS. Plastic stents are generally preferred for palliative stenting to relieve the biliary obstruction. FCSEMS are generally not preferred as they can cause blockage of the contralateral intrahepatic duct system. Several studies have investigated unilateral (left or the right duct system) or bilateral stenting. De Palma et al.[78] in their RCT of 157 patients with hilar obstruction, comparing unilateral and bilateral stenting, demonstrated superior stent insertion rates with unilateral stenting (88.6% vs. 76.9%, P = 0.04) and higher complication rates with bilateral stenting (26.9% vs. 18.9%, P = 0.03) on intention-to-treat analysis. A meta-analysis by Aghaie Meybodi et al.[79] of 1300 patients with hilar strictures demonstrated comparable efficacy and safety for unilateral and bilateral stenting. Although in theory, bilateral stenting would make sense in draining more volume of the liver, studies have not shown the difference in survival, efficacy or complication rates between these two techniques. The principle of biliary stenting is to aim for drainage of at least 50% of the volume of the liver as studies have demonstrated a decreased risk of cholangitis and improved survival with it. Obtaining imaging prior to and after biliary stenting may provide information on the effective liver volume that is drained.
Radiofrequency ablation
Radiofrequency ablation (RFA) involves the administration of thermal energy to the malignant tumor causing tissue destruction with necrosis. The indications for the use of RFA are primarily focused on relieving obstruction of the bile duct and tissue ingrowth in the SEMS[80]. The technique involves advancing the catheter over a guidewire towards the target site. There are two catheters primarily used for this purpose: Habib Endo Bipolar Radiofrequency ablation catheter (Boston Scientific, USA) and Endoluminal Radiofrequency Ablation (Taewoong Medical, South Korea). Case series have reported improved survival and stent patency rates in patients who had RFA followed by SEMS in comparison to only SEMS. Increased incidence of adverse events such as cholangitis, pancreatitis and cholecystitis have been noted[81]. There is currently a need for RCTs to demonstrate survival benefits with RFA.
Photodynamic therapy
PDT has been described as an endobiliary treatment for CCA, mainly hilar CCA. The treatment consists of injection of a photosensitizing substance combined with irradiation of a laser at a specific wavelength[82]. This results in necrosis of the tumor cells by causing a disturbance in the vasculature and release of cytotoxic enzymes from lysosomes causing degradation of cell membranes. Cheon et al.[83] in their non-randomized prospective study compared patients undergoing PDT and stenting with those undergoing only biliary stenting for drainage. The median survival duration was longer in the PDT group compared to stenting-only group (588 days vs. 288 days, P = 0.01)[83]. There are published RCTs comparing PDT plus stenting with biliary stenting only. Ortner et al.[84] in their study on non-resectable CCA, demonstrated a mortality benefit (median of 493 days vs. 98 days, P < 0.01) with improvement in quality of life. Zoepf et al.[85] in their RCT of 32 patients with bile duct cancer, demonstrated a longer duration of survival (21 months vs. 7 months, P = 0.01) in the PDT group, but there were also higher rates of post-intervention cholangitis. Reports of bacterial cholangitis, liver abscesses and photo-toxicity to the skin ranging from 0%-25% have been published in clinical studies. One major limitation of PDT is its availability, being restricted only to large tertiary care centers, and phototoxicity to the skin and eyes. PDT has demonstrated good efficacy by the destruction of superficial layers of the bile duct tumors up to 5 mm with significantly less efficacy when tumor extension is beyond 7 to 9 mm depth[86]. Currently, the indications for PDT are sclerosing variant or superficial spreading type without mass variants of CCA without any distant or nodal metastasis. Factors associated with the survival of patients have been studied for PDT. The presence of lower serum albumin pre-treatment, visible mass on imaging and longer duration between diagnosis and PDT treatment are associated with poorer survival rates while lower pre-treatment bilirubin level and multiple PDT treatment sessions have demonstrated improved survival rates[87,88].
EUS guided biliary drainage
When ERCP-guided biliary stenting failed, PTBD used to be the alternative treatment of choice. The advancement in the field of interventional EUS has provided another approach for internal biliary drainage. There are three different techniques for biliary drainage with EUS: (1) drainage of the intrahepatic ducts by hepatico-gastrostomy (HGS); (2) drainage of the extrahepatic CBD by choledocho-duodenostomy (CDS); and (3) EUS guided rendezvous procedure. In hepatico-gastrostomy, drainage is achieved by accessing a dilated biliary radical mainly in the left hepatic duct system followed by dilation of the tract and placement of a FCSEMS from the liver ducts to the gastric lumen[89]. In CDS, access to the CBD is achieved from the duodenal bulb followed by placement of a FCSEMS[90]. Drainage can also be achieved by placement of a metal stent in the gall bladder through the gastric antrum or duodenal bulb, if the cystic duct is patent[91]. The rendezvous procedure involves placement of a guidewire with the help of EUS guided access to the CBD and through the papilla, and papillary cannulation achieved with the help of the duodenoscope over or next to the guidewire. Both RCT data and meta-analyses have shown no difference in efficacy or safety comparing HGS and CDS and the choice of approach should depend on the patient's anatomy[92,93]. Recent studies have shown EUS-BD to be a superior option when compared to PTBD with lower rates of complications[94].
CONCLUSION
A diagnosis of biliary malignancy should be pursued in patients demonstrating features of biliary obstruction and elevated liver enzymes in the appropriate clinical setting. The diagnostic algorithm involves obtaining tumor markers and imaging for evaluation of the biliary tract prior to tissue sampling with endoscopic techniques - EUS or ERCP. ERCP-guided brushings and forceps biopsies are the most common modality for diagnosis, but cholangioscopy guided direct biopsies can be obtained for indeterminate biliary strictures with prior inconclusive ERCPs. Treatment is mainly aimed at biliary drainage with trans-papillary stenting in unresectable cancers as a palliative measure, with metal stents generally preferred for distal cancers and plastic stents for more proximal tumors. For resectable cancers, up-front surgery is generally preferred unless it is delayed for neo-adjuvant chemotherapy or in patients with cholangitis, in which case ERCP with stenting should be performed [Figure 5]. Among SEMS, there are no data to demonstrate the superiority of one type over the other and hence decisions should be individualized to the patient. Recent advances in interventional EUS can help with both diagnoses and for biliary drainage in patients with failed ERCP or with inaccessible papilla. Despite the significant progress in this field, there are still some deficiencies that need to be addressed and further research with RCTs is needed.
Figure 5. Treatment algorithm for management of malignant biliary obstruction. MBO: Malignant biliary obstruction; SEMS: self-expanding metal stents; FCSEMS: fully covered self-expanding metal stents; USEMS: uncovered self-expanding metal stents; ERCP: endoscopic retrograde cholangiopancreatography; EUS: endoscopic ultrasound; BD: biliary drainage; PTBD: percutaneous transhepatic biliary drainage; HGS: hepaticogastrostomy.
DECLARATIONS
Authors' contributions
Conception and design, data acquisition, drafting of manuscript, revision of manuscript: Thoguluva Chandrasekar V
Conception and design, critical review, revision of manuscript: Faigel D
Availability of data and material
Not applicable.
Financial support and sponsorship
None.
Conflicts of interest
Both authors declared that there are no conflicts of interest.
Ethical approval and consent to participate
Not applicable.
Consent for publication
Not applicable.
Copyright
© The Author(s) 2021.