INTRODUCTION
Bariatric surgery has proven to be the most effective and durable treatment of obesity and its associated comorbidities with numerous studies highlighting significant improvements in quality of life and overall life expectancy[1-4]. Given these impressive results, the prevalence of bariatric surgery has increased dramatically through the decades, with Sleeve Gastrectomy (SG) and Roux-En-Y Gastric Bypass (RYGB) being the most frequently performed weight-loss operations[5]. Although RYGB has been associated with greater percent excess weight loss (%EWL) than SG, the overall complication rate is higher[6]. Classic adverse events associated with RYGB include gastrointestinal bleeding, ulcer formation, stomal stenosis, anastomotic leaks, fistulas, nutritional deficiencies, and internal hernias.
An Internal hernia (IH) is defined as the protrusion of small bowel through mesenteric defects into a compartment of the abdominal cavity [Figure 1]. Brolin's space, or the mesojejunal window, is the space between the mesentery of the biliopancreatic and Roux limb at the jejuno-jejunostomy. Petersen's space, first described by Dr. Walther Petersen in the 1900s, is the space formed by the Roux limb mesentery; this space is defined by the following boundaries: (1) Roux limb (anterior/inferior); (2) transverse mesocolon (superior); and (3) retroperitoneum (posterior). In patients with a retrocolic Roux limb configuration, the defect in the transverse mesocolon represents the mesocolic window.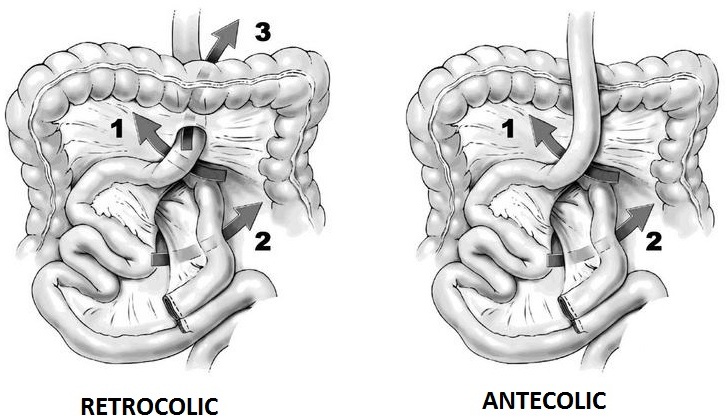 Figure 1. Potential internal herniation sites following Roux-en-Y gastric bypass based on antecolic or retrocolic approach, indicated by arrows 1-3. (1) Petersen's space (mesenteric defect between Roux limb mesentery and transverse mesocolon), (2) Brolin's space or mesojejunal window (mesenteric defect at the jejunojejunostomy), and (3) mesocolic window (defect in the transverse mesocolon). (Image from Kim Y, Crookes PF. Complications of bariatric surgery. In: Essentials and Controversies in Bariatric Surgery. Huang, C-K, ed. Available from: https://www.intechopen.com/books/essentials-and-controversies-in-bariatric-surgery/complicatio. © 2014 Kim Y, Crookes PF. Published under CC BY 3.0 license. Available from: http://dx.doi.org/10.5772/58920.
IH often presents as a late complication after RYGB and can involve one or more of the mesenteric defects, or potential spaces, created during anatomic reconstruction. When an antecolic RYGB is performed, only Brolin and Petersen's spaces are created. The mesenteric defect at the jejunojejunostomy (JJ), or Brolin's space, is the most frequently implicated in the formation of IH[7]; however, this incidence is significantly influenced by closure or not of the defects during the original operation. With the retrocolic Roux configuration, IH formation can occur at the mesocolic window (69%), Petersen's window (18%), and Brolin's (mesojejunal) window (13%), as illustrated in Figure 1[7]. Although the respective reported incidences vary among studies, IH through the mesocolic defect seems to be the most frequent.
The overall incidence of IH post-RYGB is highly variable with rates from 0.2% to 8%. The broad range reported in the current literature is likely influenced by significant differences in surgical techniques involving the closure of mesenteric defects, Roux limb configuration, and a minimally invasive versus open approach[8-10]. IH has also been described as a complication of biliopancreatic diversion with duodenal switch (BPD-DS) with a reported incidence of 8%[11]. However, given the overall lower prevalence of BPD-DS, data is scarce. Although laparoscopic gastric bypass (LRYGB) is associated with fewer surgical wound infections, less postoperative pain, lower rates of ventral hernia formation, and shorter length of stay[12-14], the incidence of IH formation tends to be higher compared to open approach due to reduced formation of postoperative adhesions following laparoscopy[8,15,16]. In fact, IH is one of the most common adverse events following LRYGB[10] and the most frequently missed cause of small bowel obstruction (SBO)[8,10,15-18]. IH formation can result in life-threatening conditions involving bowel ischemia, necrosis, and perforation. Thus, when caring for the bariatric patient, surgeons should have an appropriately high index of suspicion, as early diagnosis and immediate intervention are vital. Given the above, this paper aims to focus on the presentation, diagnosis, management strategy, and prevention of IHs after gastric bypass surgery based on the current literature and the authors' experience.
STUDY SELECTION & SEARCH CRITERIA
Two independent investigators conducted the search using the PubMed/Medline database in October 2021 for studies reporting on the incidence, outcomes and/or complications of IH following a bariatric procedure. The following search terms were used: "Internal Hernia", "Internal Herniation", "Internal Mesenteric Hernia", "IH", "Late postoperative complications", "Mesenteric defect", "gastric bypass", "bariatric surgery". The abstracts retrieved by this search were reviewed by the authors, and the relevant full papers were pulled for detailed review. The references of the included full-text papers were also manually reviewed to identify further eligible articles. Study inclusion criteria for this review consisted of adult patients, IH after prior bariatric surgery, studies published in the English language, controlled studies, case series, case reports, or meta-analyses. Studies including patients undergoing revisional bariatric surgery, reviews, letters to the editor, and studies with inadequate data were excluded. Two reviewers independently extracted the relevant data from the eligible studies. While no specific risk of bias assessment was performed, the quality of the identified literature was generally very low. The literature search yielded 609 articles and after screening titles and abstracts, 112 relevant articles were retrieved for full-text evaluation. Full-text screening excluded 44 articles (reviews, letters, irrelevant or inadequate data, etc.) and eventually 68 fulfilled the predetermined eligibility criteria. An additional number of 4 relevant articles were identified based on the bibliography review.
PRESENTATION & DIAGNOSIS
An IH may present at any point in the postoperative period; however, a trend towards bimodal distribution has been described as early occurrences within the first 3 months of surgery versus late within 1-3 years[19]. The estimated incidence of IH remains widely debated as reported rates are influenced by multiple factors, including study sample size, operative techniques, and follow-up period. Its inconsistent clinical presentation, with low reliability of diagnostic imaging and a wide range of reported symptoms, make the diagnosis of IH challenging, which contributes to differences in the reported incidence. A recently published large metanalysis including 31,320 patients reports the rate of IH to be as low as 1% in patients with antecolic Roux limb configuration and closure of all mesenteric defects. The highest IH incidence was observed in the antecolic patient group when only the mesojejunal defect was closed (3%) and in the retrocolic group with the closure of all mesenteric defects (3%)[9].
Although the existing literature suggests a low overall incidence of IH, the prevalence of RYGB and rising numbers of duodenal switch (including single anastomotic versions) patients will result in a relative increase of IH cases encountered by surgeons. Therefore, postprandial abdominal pain accompanied by nausea and/or vomiting in patients with a history of previous RYGB or switch should always alert surgeons, as this is the most frequently reported symptom of IH[18]. However, IH can present with a wide variety of symptoms ranging from mild or intermittent abdominal pain to acute peritonitis secondary to SBO with strangulation or perforation[19-22]. In the setting of RYGB, IH is the most common cause of SBO, occurring in 60% of cases[9]. Patients often present as a closed-loop obstruction, which carries a higher risk of perforation, and requires emergent surgical intervention[19,23,24]. In contrast, some patients may be minimally symptomatic from intermittent herniation occurring over extended periods of time, only to present acutely with strangulation and necrosis of an incarcerated loop of bowel[25]. In some cases, IH can be asymptomatic and incidentally found when patients undergo surgical intervention for unrelated conditions[18,26].
The diagnosis of IH is challenging given that clinical presentation varies depending on the segment of the bowel that is obstructed. As such, the pain can be diffuse or localized to the epigastrium, left hypochondrium, or radiate to the back[19]. Intermittent, crampy abdominal pain is often attributed to sporadic herniation of the small bowel with spontaneous reduction resulting in resolution of pain symptoms without intervention[19,27]. In a study published by Aghajani et al.[28], 43 out of 117 patients (37%) with IH after LRYGB were found to have an open mesenteric defect without active small bowel protrusion. Several studies have described IH patients presenting with subacute, chronic or intermittent pain, with Comeau et al.[18,19] reporting a subacute nature of the symptoms in 20.6% and chronic, intermittent pain lasting more than one month in 11.8% of the cases. In the setting of IH, compression of intestinal vasculature resulting in diminished intestinal perfusion can lead to symptoms more consistent with intermittent bowel ischemia than obstruction.
The presence of vomiting as an accompanying symptom in SBO caused by IH is also inconsistent due to the anatomic changes following RYGB. Given that the biliopancreatic (BP) limb is the most common site of obstruction, classic symptoms of SBO such as nausea and large-volume, bilious emesis can be absent due to lack of involvement of the alimentary limb[8,29,30]. The small capacity of the gastric pouch also seems to contribute to this phenomenon[31].
Although IH is the most common cause of SBO in the post RYGB setting, other pathologies should be excluded. For instance, postoperative adhesions, incisional hernia, or intussusception, most commonly at the JJ anastomosis, can also present with classic SBO symptoms. It is important to note that SBO involving the BP limb may also be caused by stenosis at the JJ[32,33].
As previously discussed, the broad spectrum of clinical presentations can result in highly variable pathways of clinical work-up. IH patients with mild, intermittent symptoms may delay evaluation until they are able to secure an appointment with an outpatient primary provider, while patients with more acute onset or persistent symptoms may present at their local emergency department. It is not uncommon for patients to be primarily evaluated by non-surgical providers and potentially referred to non-bariatric surgeons. In this context, multiple healthcare visits with incomplete or redundant testing may precede the eventual diagnosis of IH. There have also been several reports of misdiagnosis of IH, resulting in patients undergoing unnecessary cholecystectomies[34]. The potential for clinically significant delay in necessary surgical treatment also puts patients at increased risk of bowel strangulation and ischemia, resulting in emergent operations, with more extensive resections, typically via an open approach. The aforementioned factors collectively contribute to a significantly higher rate of morbidity and mortality.
Routine imaging studies are not always diagnostic for IH, but when obtained in the setting of high clinical suspicion, they can provide objective information that is useful for decision making. A CT scan of the abdomen and pelvis with oral and intravenous contrast is the first step for most surgeons since the excluded stomach, the alimentary, and biliopancreatic limbs can be visualized[21,35]. Generally, imaging conducted during the episode of symptoms has greater diagnostic value, as the herniated and distended intestinal loops can be identified[25,36,37]. While it is widely accepted that a CT scan is the best diagnostic imaging option available, it cannot always effectively rule in or rule out the diagnosis of IH[22,38]. A recently published meta-analysis, including 20 studies with a total of 1637 patients, found pooled sensitivity of 82.0%, specificity of 84.8%, positive predictive value of 82.7%, and negative predictive value of 85.8%. The three radiologic signs with the highest sensitivity were signs of venous congestion, swirl, and mesenteric edema with sensitivity of 78.7%, 77.8%, and 67.2%, respectively[39]. Ultimately, when suspecting an IH, a CT scan without the classic findings of a mesenteric defect containing inflamed or obstructed small bowel indicative of strangulation should never exclude its presence. In the setting of intermittent or early incarceration, IH may be present, but the small bowel may have spontaneously reduced or may not yet exhibit significant inflammatory changes. As such, the gold standard for the patient with persistent symptoms concerning for IH, regardless of CT scan findings, is operative exploration.
According to Torensma et al.[40], the sensitivity and specificity of the CT scan vary depending on whether the mesenteric defects had been closed during the index procedure. Specifically, the authors suggested that CT scan has decreased diagnostic importance when none of the mesenteric defects are closed, as the test's specificity decreases dramatically, despite having a sensitivity of 80%. This translates to more patients undergoing surgery without having an IH. The proposed reasoning is that intermittent episodes of pain and obstruction are due to unrestricted movement of the small bowel back and forth through open mesenteric defects with spontaneous reduction to normal anatomic positions resulting in resolution of symptoms. In contrast, when all mesenteric windows are closed during the index operation, the sensitivity and specificity of CT scan approach 64.7% and 89.5%, respectively. Considering the data mentioned above, the authors suggest that a CT scan is not helpful if the mesenteric defects have not been closed, while it is an essential diagnostic method in cases with defect closure during the index procedure.
It is of interest that in the same study, 30% of patients who had IH repair still experienced abdominal pain suggestive of multifactorial etiology[40]. In a cohort study, 160 patients who had undergone RYGB were followed up for 5 years to evaluate the prevalence of chronic abdominal pain and GI symptoms. 33.8% of the patients complained about abdominal pain, while other symptoms such as Irritable Bowel Syndrome (IBS) and indigestion were reported in 48.8% and 29.1%, respectively[41]. Therefore, bariatric surgeons should consider alternative diagnoses or multifactorial etiology when encountering patients with abdominal pain following bariatric surgery.
IH classification
Currently, there are two main classification systems utilized for reporting the incidence of IH. The AMSTERDAM classification is based on a combination of clinical and operative findings of IH. The Space-Direction-Limb (SDL) classification is based on the anatomic components of an IH.
The AMSTERDAM classification[42] categorizes patients presenting with symptoms and signs of IH into 6 categories of likeliness of having IH [Table 1]. Class I-III consists of patients found to have IH during laparoscopy but also takes into consideration the presence of other comorbidities. Class IV is comprised of patients without IH during laparoscopy, but remission of clinical symptoms following closure of mesenteric defects (intermittent IH). Class V-VI includes patients without IH during laparoscopy and a clinical presentation atypical for IH. The authors suggest including class I-IV when reporting IH incidence.
Table 1
AMSTERDAM classification for reporting IH[42]
| | | | | |
| --- | --- | --- | --- | --- |
| IH present? | Other pathology present?* | Full remission of all complaints after re-laparoscopy?+ | Most probable etiology? | Classification |
| Yes + obstruction | No | Yes | Obstructive IH | I (acute) |
| Yes | No | Yes | IH | II |
| Yes | Yes | Yes | IH or comorbidity | III |
| No | No | Yes | Intermittent IH | IV |
| No | Yes | Yes | Intermittent IH or comorbidity | V |
| No | No | No | Unknown | VI |
SDL Classification System proposed by Karcz et al.[43] provides a standardized approach to reporting the anatomic relationship between the three elements of an IH: the intestinal mesentery defect (space), herniated loop direction (direction), and the involved intestine (limb). Space is either the Petersen (P, retro alimentary limb) or Brolin (B, retroenteroenterostomy or mesojejunal) space. The direction of herniation can be right to left (L) or left to right (R). Limbs include the alimentary limb, biliopancreatic limb, common channel, enteroenterostomy/emergency as A, B, C, E, respectively [Table 2].
Table 2
Space-direction-limb classification system
| | | |
| --- | --- | --- |
| S (space) | P | Petersen (retroalimentary limb) |
| | B | Brolin (retroenteroenterostomy ) |
| D (direction)* | L | Right to left |
| | R | Left to right |
| L (limb) | A | Alimentary limb |
| | B | Biliopancreatic limb |
| | C | Common channel |
| | E | Enteroenterostomy/emergency |
Management & treatment
When approaching the bariatric patient presenting with intestinal obstruction and suspected IH, it is often helpful to start by determining which operation was performed, keeping in mind that symptoms will vary depending on the site of obstruction. For example, an RYGB patient presenting with active vomiting from proximal obstruction would benefit from nasogastric decompression. Patients with more distal obstruction, however, are unlikely to experience much symptomatic relief with the placement of a nasogastric tube.
Obstruction of the BP limb resulting in a closed-loop presents very differently from obstruction of the Roux. Nausea, vomiting, and obstipation characteristic of SBO due to stricture or adhesions are not seen with BP limb obstruction. Instead, patients can have a distended remnant stomach with left upper quadrant fullness and diaphragmatic irritation causing referred shoulder pain, tachycardia, or hiccoughs[44]. Careful review and proper interpretation of serum blood tests are especially important for this particular group of patients. Elevated amylase and lipase levels have been shown to correlate with BP limb obstruction. Typically, enzyme levels are in the hundreds, not thousands as seen with pancreatitis[45]. In the case of chronic obstruction, liver function tests may also be slightly increased. Providers inexperienced in the care of bariatric patients are more likely to incorrectly attribute these laboratory abnormalities to pancreatic or biliary disease. Misdiagnosis could result in inappropriate attempts at nonoperative management with delays in surgical consultation and subsequent intervention. CT scan is the best choice for diagnostic imaging, with a hallmark finding being a massively dilated remnant stomach.
Bariatric patients with suspected IH based on the combination of clinical presentation and/or diagnostic imaging findings should undergo surgical exploration. Here, we describe the surgical approach utilized by the authors for IH reduction and mesenteric defect closure, which is largely consistent with operative techniques previously published by Leyba and Nimeri[46,47]. For the vast majority of patients, this operation can be done laparoscopically. Optimal patient positioning is supine with arms tucked. If a nasogastric tube is not already present, an orogastric tube for decompression should be considered.
The abdomen is accessed under direct visualization using a 5 mm optical trocar or cut down technique and pneumoperitoneum is established. It is important to consider that bowel dilation in the setting of obstruction can increase the risk of injury during initial entry and provide a technical challenge due to decreased working space. Once insufflated, an additional two 5 mm working ports are placed under direct vision. An additional 5mm trocar may be required for an assist port. If necessary, one or more of these trocars can be later upsized to 12mm to accommodate a stapler. If the patient is unable to tolerate insufflation at any point, conversion to an open operation should be entertained.
An initial survey is conducted to quickly identify dilated and decompressed bowel and assess for areas of frank necrosis. The ileocecal valve is identified, and the bowel is "run" proximally towards the ligament of Treitz. Reduction of the incarcerated small bowel can be difficult when a significant segment is entrapped within a hernia defect causing anatomical distortion. Gentle tissue handling techniques should be used as dilated, inflamed, ischemic bowel is particularly susceptible to iatrogenic injury. Atraumatic graspers should be used with the "hand-over-hand" technique, taking care to avoid any undue tension. Resistance usually distinguishes "transition zones" as points of obstruction. Adhesiolysis is performed, as necessary. After herniated bowel is successfully reduced, it should be closely inspected for injury and assessed for adequate perfusion. If the bowel appears viable, the mesenteric defect should be sutured closed, and the remainder of the intestine should then be carefully inspected. It is imperative that all potential mesenteric defects be identified, examined, and closed if found open.
In the setting of patchy ischemia and borderline viable bowel, a "second-look" may be necessary in 24-48 hours. If necrotic bowel is encountered, resection with primary anastomosis will be required. It is important to measure all limb lengths and determine if additional reconstruction is necessary given altered anatomy. An intra-operative upper endoscopy should be performed routinely to assess for additional pathology of the gastrojejunal anastomosis. Lastly, a decompressive gastrostomy tube may be needed to address dilation of the BP limb and remnant stomach due to obstruction from IH[47].
PREVENTION
The pathogenesis of IH formation has not been studied well yet; however, rapid weight loss following bariatric surgery is considered the main contributor[16,25,48]. Specifically, as mesenteric and omental fat decreases rapidly, the existing openings generated during surgery enlarge even if the initial windows had been closed, resulting in free bowel movement and increased risk of internal bowel herniation[21,30,49]. The bimodal distribution of IH may, in fact, be a consequence of this concept. This was hypothesized by Stenberg et al., who observed that the highest IH incidence at 1-3 years postoperatively coincided with the period of the greatest weight loss[50-52]. Known factors associated with a higher incidence of IH are the absence of postoperative adhesions in LRYGB, and the different surgical techniques applied[10,34,52,53]. However, additional predisposing factors have also been reported, including the counterclockwise rotation[54] and the right or left configuration of the Roux limb[36,55,56].
Several recent studies have demonstrated a decrease in IH rate with mesenteric defect closure [Table 3][10,50,52,57-63]. In this context, a recent retrospective cohort demonstrated that patients who underwent RYGB with mesenteric defect closure had a significantly lower incidence of IH than patients without closure (1.7% vs. 3.5%, P = 0.027)[59]. Consequently, IH is a potential complication following RYGB even if all mesenteric windows have been closed and therefore both surgeons and patients should be aware of the risk of IH. Some investigators propose that this may be due to the rapid weight loss resulting in mesenteric defect reopening[10,15,35,64,65].However, poor surgical technique resulting in incomplete closure of the mesentery may also play a significant role. Additionally, complications associated with closing the mesenteric openings have been reported in the literature, including mesenteric vessel injury, hematomas, and iatrogenic SBO due to kinking or narrowing of the Roux limb[19,21,66].
Table 3
Most recent studies comparing internal hernia incidence in patients with closure of mesenteric defects vs. non-closure
| | | | | | | | |
| --- | --- | --- | --- | --- | --- | --- | --- |
| Study | Design | Sample size | Follow-up duration | Approach | Open defects | Closed defects | Primary/secondary outcomes |
| Stenberg et al.[50], 2016 | Multicenter RCT | 2507 | 36 months | Antecolic | 26% PD, 66% MJ, 8% PD + MJ | 28% PD, 68% MJ, 4% PD + MJ | The cumulative risk of reoperation for SBO was lower in the defect closure group (5.5%) vs. no defect closure (10.2%) (HR = 0.56, 95%CI: 0.41-0.76, P = 0.0002). Higher severe postoperative complication rate with defect closure vs. without (4.3% vs. 2.8%; OR: 1.55; 95%CI: 1.01-2.39, P = 0.044) |
| Kristensen et al.[57], 2021 | Single-center RCT | 401 | 60 months | Antecolic | 42% PD, 23% MJ, 35% PD + MJ | 38% PD, 38% MJ, 23% PD + MJ | The cumulated risks of internal herniation at 5 years postoperatively were 15.5% and 6.5% in the non-closure and closure groups, respectively (HR: 2.52; 95%CI: 1.32-4.81; P = 0.005). The duration of operation was higher in the closure group with a median of 58 vs. 54 minutes (P = 0.002) |
| Rosas et al. [58], 2015 | Multicenter RCT | 105 | 34 months | Antecolic | - | - | During follow-up, the IH incidences in the defect closure group (only mesenteric defect) vs. non-closure group were 0% and 1.9%, respectively. (P = 0.343) |
| Chowbey et al.[59], 2016 | Retrospective Cohort | 1576 | 60 months | Antecolic | 24% PD, 76% MJ | 24% PD, 76% MJ | The incidences of IH during follow up in the groups with and without mesenteric defect closure were 1.7% vs. 3.5%, respectively (P = 0.027). |
| Aghajani et al.[60], 2017 | Retrospective Cohort | 4013 | 60 months | Antecolic | 43% PD, 39% MJ, 18% PD + MJ | 52% PD, 42% MJ, 6% PD + MJ | IH incidence was significantly lower (2.5%) in the closure group than in the non-closure group (11.7%) |
| Amor et al.[61], 2019 | Retrospective Cohort | 2093 | 120 months | Antecolic | 38% PD, 46% MJ, 15% PD + MJ | 100% MJ | The incidence of symptomatic IH was significantly lower (0.87%) in the closure group than in the non-closure group (1.66%) (P = 0.0021) |
| Blockhuys et al.[62], 2018 | Retrospective Cohort | 3124 | 24 months | Antecolic | 74% PD, 26% MJ | 79% PD, 21% MJ | At 2 years IH incidence in the closure group of both defects (Petersen and Mesenteric) was 1.15% compared to 2.58% in the group with only closure of the mesenteric defect. |
| de la Cruz-Muñoz et al.[52], 2011 | Retrospective Cohort | 2079 | 60 months | Antecolic | 83% PD, 3% MJ, 14% PD + MJ | 100% PD, 0% MJ, 0% PD + MJ | The IH incidence in the non-closure group vs. closure group (only mesenteric defect) was 11.7% and 0.05%, respectively (P < 0.001). |
| Lopera et al.[63], 2018 | Retrospective Cohort | 667 | 36 months | Antecolic | - | - | The IH incidence in the defect closure group (only Petersen's defect) vs. non-closure group was 0.02% and 0.1%, respectively. |
| Rodriguez et al.[10], 2010 | Retrospective Cohort | 359 | 36 months | Antecolic | 35% PD, 65% MJ | 0% PD, 100% MJ | The IH incidence in the non-closure group (open Petersen's and closed mesenteric) vs. closure group (Petersen's and mesenteric) was 14.4% and 1.1%, respectively (P = 0.0001). |
The benefits of closing the mesenteric openings have been demonstrated in large-scale randomized control trials. In 2016, Stenberg et al.[50] published the landmark study in Lancet addressing the issue of mesenteric defect closure during RYGB and providing level A evidence for its use. This multicenter RCT included 2507 patients undergoing LRYGB who were randomized into two groups – with or without mesenteric defect closure. At the 3-year follow-up, patients who underwent mesenteric defect closure during their index operation had a significantly lower rate of reoperation for SBO (5.5%) compared to those without defect closure (10.2%)[50]. However, patients in the defect closure group had a higher percentage of severe postoperative complications (4.3% vs. 2.8%; OR: 1.55; 95%CI: 1.01-2.39, P = 0.044), mainly due to a higher incidence of bowel torsion at the JJ[50]. The reported outcomes align with results from a recent single-center RCT published by Kristensen et al.[57] Investigators found that the risk of IH at 5 years postoperatively was significantly higher in the non-closure group (15.5%) versus the closure group (6.5%). In summary, recent studies with high level of evidence clearly report that routine closure of mesenteric defects is beneficial.
This fact was confirmed by a recent meta-analysis by Magouliotis et al.,[67] which included overall 16,520 patients undergoing RYGB. The investigators showed that the incidence of IH (OR: 0.25, P < 0.01), SBO (OR: 0.30, P < 0.0001), and reoperation (OR: 0.28, P < 0.001), were significantly lower when mesenteric defect closure was performed compared to patients with no mesenteric window closure. However, the percentage of early SBO seems to be higher in the defect closure group (OR: 2.83; P = 0.01). The authors suggested that increased tension during the creation of the anastomosis results in kinking of the JJ, which ultimately serves as a point of obstruction.
Over the years, many different techniques and suturing materials have been utilized to minimize complications and maximize patients' benefits. In this context, the uses of absorbable versus permanent and interrupted versus running sutures have been described in the literature[26,68,69]. A recent meta-analysis published in 2020 reported that permanent running sutures constitute the most common defect closure technique, reduce the incidence of IH, and are considered superior to absorbable[67], which have been implicated in adhesion formation and development of SBO[55,70]. A large single-institution retrospective study also from 2020, reported a significant reduction in IH incidence with running mesenteric defect closure compared to interrupted, with no difference found between absorbable and nonabsorbable suture[71]. Irrespective of material and technique, suture closure of mesenteric defects can be technically challenging and extend operative time significantly, as described by Stenberg and colleagues[50], who reported an increase by a median of 13 minutes compared to the non-closure group. Additionally, several complications have been reported, including injury to mesenteric vessels causing bleeding or hematoma formation[72,73], and increased tension on the anastomosis[55].
To counterbalance these disadvantages of defect closure with sutures, newer alternative approaches, such as clips or glue, have been introduced, but their use remains controversial. Two large-scale studies investigating mesenteric defect closure with stapler have been conducted to date[57,60]. Both were able to show the decrease of IH incidence in the defect closure vs. non-closure group, but an increased rate of bowel kinking at the JJ was detected. Moreover, the operative time was prolonged only by a median of 4 minutes, noticeably less time-consuming than suture closure. This finding was confirmed by a registry-based study by Stenberg et al.[74], where the defect closure using clips was faster than sutures, at the expense of a slightly higher IH rate at 5 years (7.3 % vs. 6.9%; HR: 1.16, 95%CI: 1.02-1.32, P = 0.026). As such, the implementation of clips to close the mesenteric defects during RYGB may be a more efficient alternative, as it is easier and faster to perform than sutures. However, the cost of an additional instrument and the slightly increased risk of complications may limit its routine application.
The use of bioabsorbable tissue reinforcement to reduce IH rate post-RYGB has been proposed by a few groups, but its use is not widely adopted. Existing studies consist of retrospective reviews of prospectively collected data assessing the overall incidence of IH formation following RYGB with changes in techniques for mesenteric closure. A 2018 study compared outcomes of an early cohort of patients with an open Petersen's defect and closure of the mesojejunal defect with staples or sutures to a later cohort with closure of all mesenteric defects reinforced with 8x8cm piece of bioabsorbable matrix[75]. A more recent study published in 2021, compared outcomes of an initial technique with either open or glue closure of Petersen's space and double-layered suture closure of the mesojejunal defect compared to closure of both Petersen's and the mesojejunal defect with double-layered suture closure and BIO mesh reinforcement[76]. While both studies concluded that biologic reinforcement of mesenteric closure was associated with a decreased rate of IH formation, it is evident that there were multiple major changes between techniques besides the use of biologic tissue reinforcement. The presence of confounding factors undoubtedly contributes significantly to type I error. Therefore, the use of biologic reinforcement for mesenteric closure remains unsubstantiated by the current literature.
When it comes to the surgical technique of gastrointestinal reconstruction and limb configuration, the antecolic position of the alimentary limb is preferred. With this method, only two windows in the mesentery at Petersen's space and the mesojejunal window[36]. When creating a retrocolic Roux limb, a third defect is created whereby the small bowel can herniate through the transverse mesocolon mesentery. This is clinically significant as the mesocolic window has been reported as the most common internal herniation site (67%)[26]. As such, the antecolic position of the Roux limb has been considered to have an overall lower incidence of IH formation[77]. Although no RCTs have been conducted to directly compare the incidence of IH between the two limb configurations, most recent studies support the routine construction of an antecolic alimentary limb.
A meta-analysis involving 7043 patients who underwent RYGB showed that an antecolic compared to a retrocolic Roux limb had both lower IH incidence (1.3% vs. 2.3%) and SBO rate (1.4% vs. 5.2%)[78]. As expected, higher rates of IH formation in the retrocolic versus the antecolic configuration were reported in several large retrospective series[79,80]. Moreover, constructing an antecolic alimentary limb is technically easier to perform and is not associated with increased overall complications[21,81]. For these reasons, it is suggested that an antecolic Roux limb should be the primary approach in RYGB. However, the antecolic approach seems to have a higher incidence of Petersen hernia and results in increased tension at the gastrojejunal anastomosis, which may predispose patients to the development of complications including anastomotic leak and stricture[21,22,35,70].
The orientation of the antecolic Roux limb has been suggested to be associated with the IH formation after RYGB[19,36,54]. A retrospective review published by Quebbemann and Dallal investigated whether the orientation of the cut end of the bowel when creating the gastrojejunostomy impacts the rate of IH formation when the Petersen's defect is not closed. A "right-oriented RYGB" was defined as the cut end of the bowel pointing towards the greater curvature side of the gastric pouch versus a "left-oriented RYGB" where the cut end of the bowel points towards the lesser curvature and the bowel sweeps toward the patient's left relative to the Roux mesentery. The authors found a significant decrease in the incidence of IH in the "right-oriented" (0.5%) versus the "left-oriented" group (9%)[36]. A recent study by Nandipati et al. demonstrated that in patients with closed Petersen's defect, those who received a clockwise rotation and anastomosis on the right side of the axis of the mesentery had significantly higher IH percentage compared to those who had a counterclockwise rotation (7.4% vs. 0%)[54].
While this review primarily focuses on IH post-RYGB, it is important to note that the potential for IH is present in bariatric procedures that involve the small bowel. Biliopancreatic diversion with duodenal switch (BPD/DS) is performed much less frequently than RYGB given the riskier complication profile; therefore, there is a lack of high-powered studies looking at the incidence of IH formation in this particular subset of bariatric patients. The rate of IH formation at the enteroenterostomy site is expected to be similar to that of RYGB; therefore, routine closure is recommended[82]. It is important to note that closure of the Petersen's defect is more technically difficult in BPD/DS, which may correlate to an increased propensity to simply leave defects open or to have inadequate closure when it is attempted.
In recent years, single anastomosis procedures, including one anastomosis gastric bypass (OAGB) and single anastomosis duodenal-ileal bypass with sleeve (SADI-S), have been presented as technically simpler malabsorptive procedures with similar weight-loss efficacy[83,84]. While the widespread use of these procedures has not yet gained major traction, one potential benefit compared to RYGB and BPD/DS is a lower rate of IH given the reduction of one mesenteric defect given the elimination of the enteroenterostomy[85]. It has been suggested that the very large defect created when bringing up a loop should allow for the small bowel to travel freely underneath the anastomosis resulting in a low risk of IH formation. As such, the risk of Petersen's hernia certainly still exists as several case reports of IH after OAGB or SADI-S have been published over the last five years[86-88]. A 2021 French case series of 3368 patients found the incidence of IH after OAGB to be 2.8%.[89] Closure of the only defect in single anastomosis procedures is performed by closing the defect between the efferent limb and the transverse mesocolon extending from the root of the mesentery up to the lower border of the transverse colon.
The Authors' Approach – Proposed Work-up, Treatment, and Prevention Strategies for IH
When we encounter patients in our practice with acute or chronic abdominal pain after RYGB or other anastomotic bariatric procedures, we first pursue imaging with a CT abdomen/ pelvis to assess for the possibility of an IH. In cases where imaging is negative for a specific pathology, including IH, we may pursue additional studies such as an esophagogastroduodenoscopy to assess anastomotic complications, or imaging to exclude gallbladder pathology. If all studies are inconclusive and the patient's symptoms persist, we offer a diagnostic laparoscopy to rule out an IH. At the time of the operation, if an IH is identified, the mesenteric defect(s) are closed with permanent suture. If all defects are found closed other pathology is sought.
It should also be noted that the authors' standard practice is to close all mesenteric defects independent of the type of anastomotic procedure; this practice has led to very few IH over the years. It is also our practice to inspect the mesenteric defects in all bariatric patients with a prior anastomotic procedure who are undergoing another procedure (i.e. cholecystectomy etc.) and close any identified open defects.
CONCLUSION
Development of IH remains a clinically significant long-term complication following malabsorptive bariatric procedures. Patients typically present with abdominal pain and sometimes nonspecific symptoms, and while a CT scan of the abdomen is the best initial diagnostic test, its sensitivity and specificity are suboptimal. For these reasons, expedient diagnosis can be challenging. Significant delay in treatment can result in catastrophic consequences, including bowel ischemia, perforation, sepsis, and potentially short gut syndrome resulting in long-term malnutrition. This review analyzes the currently available literature to provide a comprehensive understanding of the clinical presentation, the utility of various diagnostic modalities, and treatment algorithm for the management of bariatric patients with IH. Prevention is key in decreasing the overall incidence of IH post-bariatric surgery. The benefit of mesenteric defect closure at the time of index operation has been established; however, the ideal surgical technique remains debated and based on individual surgeon preference.
DECLARATIONS
Authors' contributions
The authors confirm contribution to the paper as follows:
Study conception and design: Pokala B, Giannopoulos S, Stefanidis D
Data collection: Pokala B, Giannopoulos S
Analysis and interpretation of results: Pokala B, Giannopoulos S, Stefanidis D
draft preparation: Pokala B, Giannopoulos S
Critical content revision: Pokala B
Availability of data and materials
Not applicable.
Financial support and sponsorship
Not applicable.
Conflicts of interest
All authors declared that there are no conflicts of interest.
Ethical approval and consent to participate
Not applicable.
Consent for publication
Written informed consent for publication was obtained.
Copyright
© The Author(s) 2022.
Cite This Article
OAE Style
Pokala B, Giannopoulos S, Stefanidis D. Prevention and management of internal hernias after bariatric surgery: an expert review. Mini-invasive Surg 2022;6:23. http://dx.doi.org/10.20517/2574-1225.2021.136
AMA Style
Pokala B, Giannopoulos S, Stefanidis D. Prevention and management of internal hernias after bariatric surgery: an expert review. Mini-invasive Surgery. 2022; 6:23. http://dx.doi.org/10.20517/2574-1225.2021.136
Chicago/Turabian Style
Pokala, Bhavani, Spyridon Giannopoulos, Dimitrios Stefanidis. 2022. "Prevention and management of internal hernias after bariatric surgery: an expert review" Mini-invasive Surgery. 6: 23. http://dx.doi.org/10.20517/2574-1225.2021.136
ACS Style
Pokala, B.; Giannopoulos S.; Stefanidis D. Prevention and management of internal hernias after bariatric surgery: an expert review. Mini-invasive. Surg. 2022, 6, 23. http://dx.doi.org/10.20517/2574-1225.2021.136